The Liberty Remote Conferencing facility is an optional component of the Liberty Court Recorder. To use the Remote Conferencing facility, the Court must purchase this component from their authorized Liberty Recording supplier and the Recorder application must be licensed to utilize the Remote Conferencing facility.

Anyone assigned by a licensed Court may download, install and use the Liberty Remote Agent software, at no cost.
The Liberty Remote Agent software will generally run on any Windows PC with Windows XP or later operating systems. Users must:
(A): Use an industry-standard headset and microphone attached to their PC.
Any headset suitable for making Internet phone calls will work well with the Liberty Remote Agent.
Headsets such as the Plantronics Audio 478 USB Headset, or the CAD U2 Headset can easily be found at your local electronics store or at many online retailers. Do not use a set of speakers, you must use a headset. If you use speakers, the courtroom will be subjected to significant echo effects and the program will not record properly.
(B): Use an industry-standard webcam, if the Court requires video.
If you use a Windows XP computer and you use a webcam, then you must download and install the XVID Codec for Windows from this link.
The XVID Codec is used with your webcam to send video to the courtroom.
(C): Download and install the Liberty Remote Agent V7.0 software from this link onto your Windows PC.
(D): The Court must provide you with an Internet IP address with which you will connect to the courtroom.
This address is called an IP address and will be in the format of 4 groups of numbers, separated by periods.
You must obtain this Internet IP address from the court to which you want to connect.
(E): You must have a high-speed Internet connection with which to connect to the courtroom.
After you have installed the XVID Codec and the Remote Agent program, at minimum, you must specify the Court's Internet address to the Liberty Remote Agent program. Go to View => Options in the Remote Agent program and then go to the "Connection" tab.
Enter the Courtroom Internet IP address provided by the Court, into the program options, similar to as seen in the screen capture below.
Also, if you will send video to the courtroom, go to the Video tab and check the box that says "Enable video".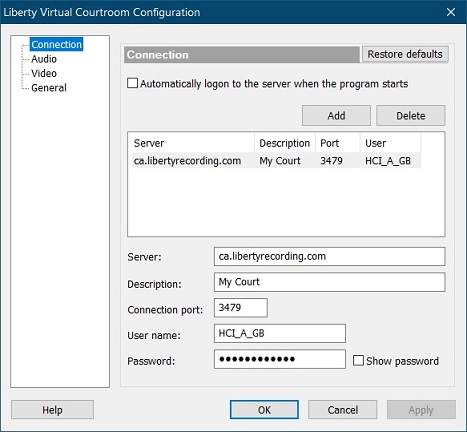 Please note, the IP address of 111.222.333.444 shown above is only an example.
You must obtain the correct IP address from the courtroom where you will connect.