October 26, 2008
High Criteria announces support for the Antex DMX8 sound mixer for use with the Liberty Recorder. The DMX8 mixer connects to the PC with a standard USB cable. The driver for the mixer should be installed, prior to connecting the mixer to the PC. The driver install will prompt you to connect the device and power it on.
The image below shows the DMX8 configuration panel. Note that, in the example, the first 7 microphones are configured for Dynamic microphones. The eighth microphone is configured as a condenser microphone with phantom power.
The driver version number can be obtained by right-clicking on the Title bar of the Window.
The Liberty Recorder should be configured as shown below, to use the DMX8 mixer.
The DMX8 mixer may be tested with Windows Sound Recorder. Use the settings below to test the mixer with Windows Sound Recorder.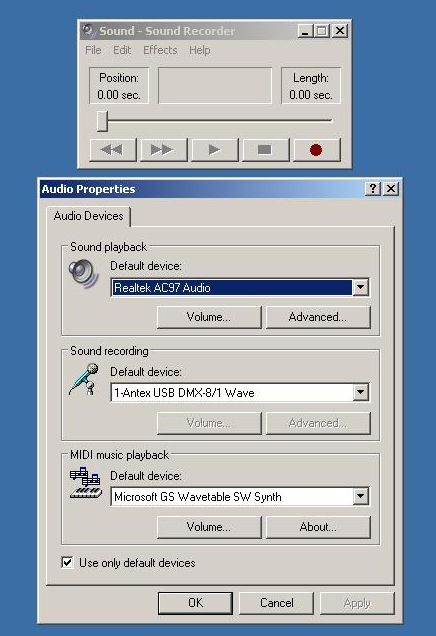 Please contact High Criteria or your Liberty sales representative, if you have any questions concerning the installation of this device.