Purchase VEC Infinity USB Foot Control

Purchase the VEC Infinity USB Foot Control from this webpage. The cost for the pedal only is $79.95 US or $79.95 CAD. Ground shipping to the lower 48 States and Canada via UPS is included in this cost. (Playback software is not included and must be obtained separately.)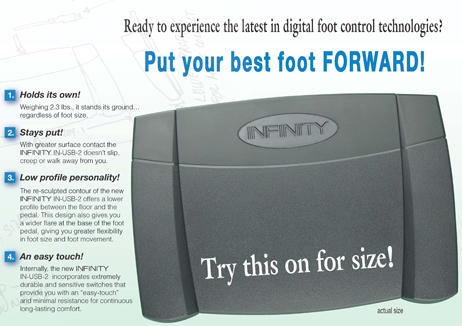 The Inifinity foot pedal will work with all versions of Windows 98SE / Me/ W2000/ WXP/ Vista / W7 and W10, but the foot pedal alone will not playback audio files. You must install the correct software program to work with the pedal and playback the audio. The only computer requirements of the PC are that it be equipped with a standard sound card and an available USB port.
The purchase price for the VEC Infinity pedal includes ground shipping anywhere in the lower 48 States and Canada. Although the shipment will probably arrive within 4 business days, exact shipping times cannot be guaranteed.
Copyright © High Criteria Inc. 2005-2018. All Rights Reserved.