BIAMP Tesira FORTE
Liberty Recording has multiple dealers who have used the BIAMP Tesira FORTE to with the Liberty Recorder. The following instructions are made available for those users wishing to use the Tesira Forte with the Liberty Recorder to capture the courtroom audio.
Tesira FORTE's USB audio port can be used to receive or transmit up to eight channels of digital audio to a PC. This page provides instructions for configuring the systems to use the Tesira FORTE with the Liberty Recorder.
Create a Tesira FORTE Configuration and Connect via USB to the Recording PC
The first step to integrate the Tesira FORTE with the Liberty Recorder is to create a Tesira configuration file that includes USB blocks. While Tesira FORTE's USB interface supports both sending and receiving of audio signals, most court recording implementations will only require the Tesira FORTE to send audio signals to the recording application. Therefore, in most cases, only USB Output blocks will be defined and used in the Tesira configuration.
Tesira FORTE USB blocks can be created via the I/O Blocks menu in the Tesira FORTE Object Toolbar. USB blocks can also be inserted when a set of Tesira FORTE blocks are added to a configuration. When configuring the USB blocks for this application, the USB blocks should be in "Line In/Out" mode, and in most cases you will only use "Output Channels Only":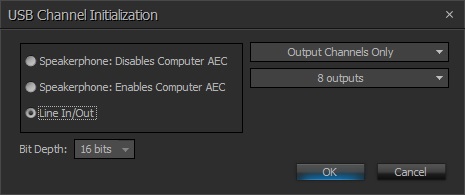 Next, connect the Tesira FORTE to the computer with a USB cable. When you connect the USB cable to your computer, it will automatically detect the Tesira FORTE and will automatically install the drivers. Once connected, the Tesira FORTE will show as an audio device in Windows. You can verify this by going to the Sound dialog of the Windows Control Panel.
For Liberty Recorder 32-Bit Version, Use Kernal Streaming Mode
You may connect the Liberty Recorder directly to the Tesira Forte by using the Kernal Streaming Mode of recording. In the Liberty options, specify Kernal Streaming as the "Type of Driver" as seen in the screen capture below.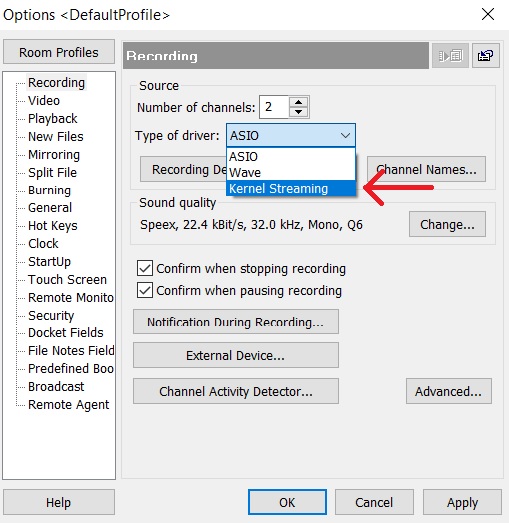 For Liberty Recorder 64-Bit Version, Install ASIO4All
The Tesira Forte Kernal Streaming driver is not supported for 64 bit operations. So a third-party ASIO software is required support the 64-bit version of the Liberty Recorder. The suggested third-party software is an ASIO driver called ASIO4ALL. Please note, ASIO4ALL is not developed, marketed or sold by Liberty Recording.
Download and install the ASIO4ALL software from this link.
When installing the software, be sure to check the "Off-Line Settings" checkbox during the install process.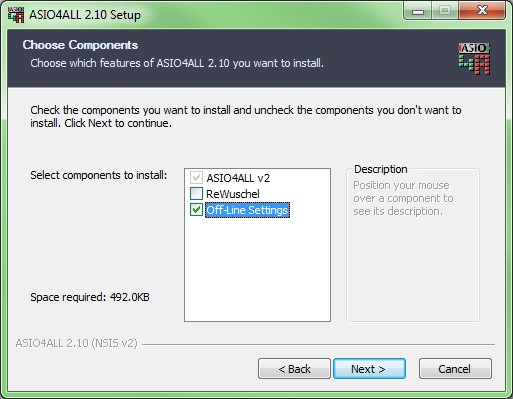 Configure Liberty Recorder to use ASIO For All
In the Liberty Recorder, select the Type of Driver equals ASIO and the ASIO4ALL device as the active Recording Device for Channels.