March 20, 2020
High Criteria Inc announces enhancements to Remote Conference facilities for Virtual Courtrooms.
High Criteria Inc today announced the development of enhancements to the existing Liberty Recorder Remote Conference facility. These enhancements are designed to allow for a fully Internet-based Virtual Courtroom. Instead of attending onsite, parties such as the lawyers, the judge and the witness, can connect to the recording system over the Internet and have their individual audio and optionally video, captured by the recording system.
The existing Remote Conference facility within the Liberty Recorder allows courts to bring an outside party into the courtroom over an Internet connection. The new developments announced today will allow multiple parties to connect to the recording computer over an Internet connection. The audio and optionally the video, from the different parties will be captured on separate recording channels within a single recording file. The recording files will be captured in the native Liberty format, with which Liberty users are already familiar. The recording computer may be situated either in the courtroom, or outside the courtroom, as required by the court and users connecting to the system may use a Windows PC, an iOS device, or an Android device.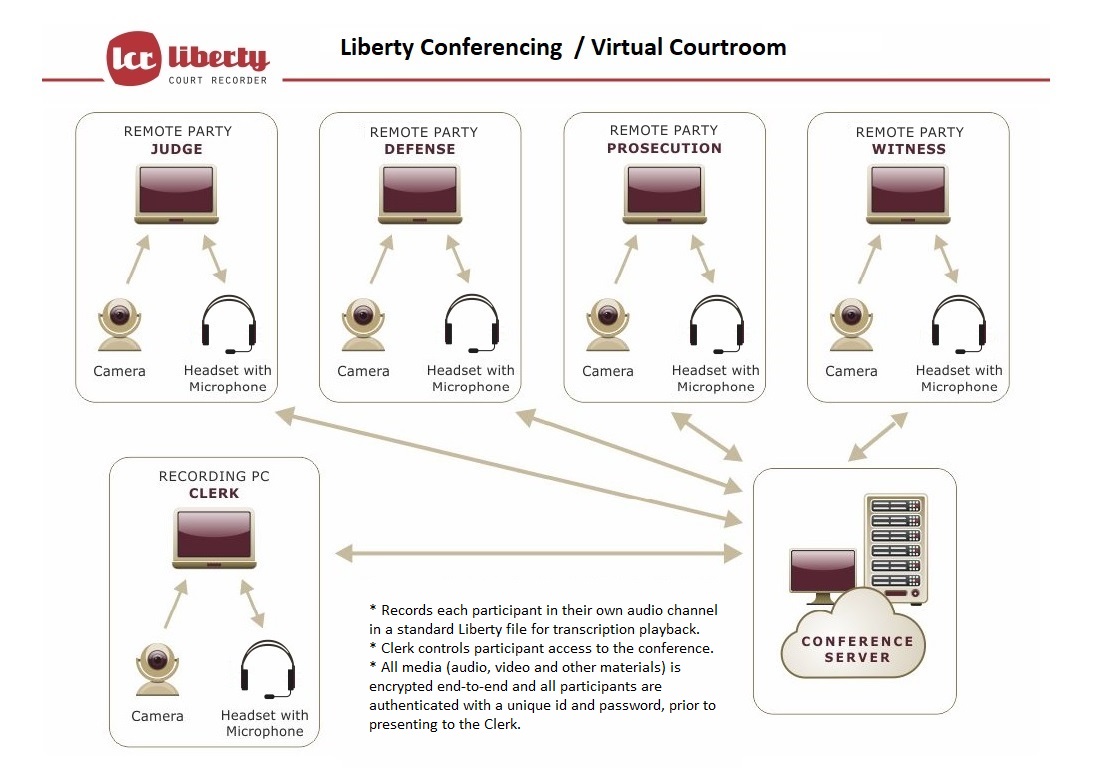 In-house testing has begun on the updates and High Criteria expects to roll them out to customers for evaluation within 6 weeks.
The Liberty Court Recorder is available through local re-sellers in the United States such as JCG Technologies of Scottsdale Arizona (www.JCGTechnologies.com), Northland Systems of Minnesota (www.Northlandsys.com), BIS Digital Systems (www.BISDigital.com) and Gramco Business Communications (www.GramcoRecording.com) and directly through High Criteria Inc.
Please see the Liberty Recording website (www.LibertyRecording.com) for more information.
Please contact High Criteria at sales@LibertyRecording.com for further details.

Please follow this link to the Liberty Recording home page.